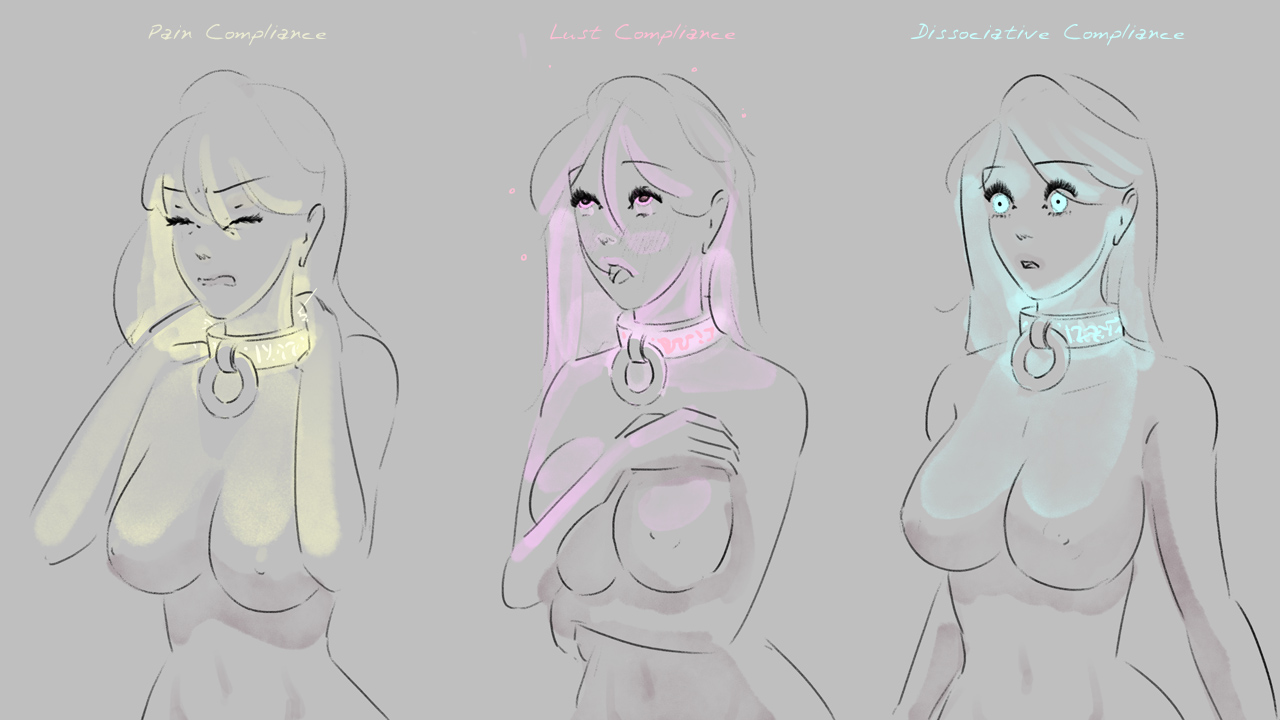 Some collar lore, by request:

Wearing a collar is a sign of devotion or subservience - to a cause or person.

As with almost any item, enchantments can be applied to these collars. They are particularly effective because of their placement on the body. The neck is vulnerable both physically and psychologically, and if the collar is made non-removable this further enhances the effect. In this world magic follows rules but it is still effected by the will of the user and a collar tends to force the issue. With the right tuning one can be made to turn almost anyone to almost any purpose. Side note: The Dagger of Xian (from Tomb Raider 2?) which grants the power of the dragon to wielder if they plunge it into their own heart, would not be out of place in this universe. It grants ultimate power but requires ultimate devotion.

Collars can come in a variety of shapes and sizes, mainly as a fashion statement. A smaller collar requires more skill and higher grade materials to hold an enchantment, making them more expensive and a bit of a status symbol.

The standard enchantment that Alison wears (pregnancy prevention) is a common matter of practicality, but more advanced enchantments are available - ranging from compliance, to mood altering, to physical changes, to very specific soul compatibility. A set could be tuned to the soul of a specific demon, acting as an extension of its will and desires, reaching out into the wider world and, eventually, to the chosen wearer (see illustration)

Magical effects are visible, by their nature. Enchanted items will glow when operating and a more intense glow generally indicates a more potent effect. When a powerful or specifically tuned item is activated, symbols may become visible on its surface. Different colors indicate different effects, but are many different approaches even within a given class of effects, so color alone is not a reliable diagnostic. A person under the influence of magic (either internally or externally) may glow visibly, particularly through the eyes.


Comments